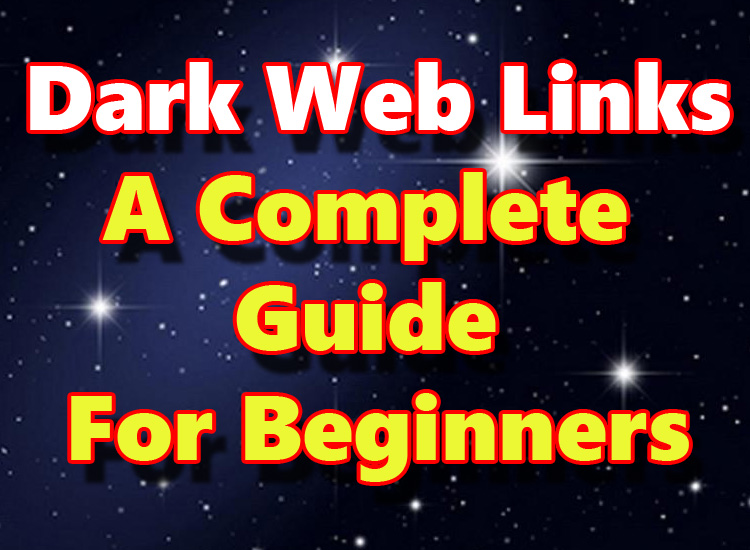 Dark Web Links: A Complete Guide For Beginners
A complete guide for beginners regarding dark web links has been discussed broadly in this content. Since the introduction of the world wide web, dark web has been in the main scene as a synonym to illegal activities taking place in the underworld. There is no strict ban imposed on usage of dark net anywhere in the world. Deep in the darkest spaces of internet lies the dark web. Users are able to access this creepy network with the help of specialized browsers. User created links referred to as dark web links are used to reach these web pages. While the unaware netizen uses the words deep web and dark web interchangeably, there is lot to it than mere misuse of words. Almost all inventions of mankind had acts like a double-edged sword. Anonymity has been one of the most used words to describe concern of users. This article is a sincere effort to examine dark web, its uses and beneficiaries. Also, the efforts made by black web to counter internet governance will also be inspected. Few useful services provided by this user community are also shared here.
Introduction Of Dark Web And Dark Web Links
Dark web is diverse from deep web, which is a step below clearnet. It is anonymous and not available in the public internet directories. The internet that we see today is a mammoth connection of networked computers or nodes. It is so intricate that millions, if not billions of computers are services in a single second. World wide web is a means to access the information available in the internet. Now that users have a hold of the internet, lets examine deep web and dark web. Deep wed is the middle layer of internet. It contains collection of webpages that require authentication. A video database with a login id and password is an example. A user cannot simply research for a specific video straightaway. Dark web is the deepest part of internet. It is a subset of deep web. It is a haven of malicious activities. Standard browsers cannot access dark web links. They are parsed with the help of specialized browsers. The websites often end in .onion and can be accessed with the help of special browsing platforms. The dark web is made possible with the help of tor network, a relay of nodes interchangeably accessing information from users who are behind end nodes. What makes dark web notorious is its ability to conceal information.
Anonymity is guaranteed only when IP or internet protocol is undisclosed. Tor networks does this by sharing the data among a volunteer network. This allows the primary users to be untraceable. Not even federal agencies can get a hold of information that is spread in tor networks. The volunteer network is so strong that it is relatively hard for hackers and data stealers. For every website, there is a dedicated website link as all users know. This subset of deep web provides access to dark websites. These links are of special format and consists of alphanumeric characters followed with a .onion domain. There are specific directories where dark web links can be accessed. The Hidden Wiki is one such directory. Since most of the links hosted in the directories are illegal or provide illegal services, they often change side address to stay atop the investigators. Authorities bring down every illegal dark web link here and there. Learn more about how to access the dark web.
Beneficiaries Of Dark Web Links
An analysis of users who access the deepest part of internet reveal the importance of security in day-to-day life. Users are concerned about the activity trackers that websites have built in for them. People are concerned of their online identity and they don't want to mix it with the offline ones. As long as tor relies on distributed hashing, this cat and mouse game will take time and effort to be cracked down. Further, there are no concrete evidences to prove that dark web links are associated with all the illegal activities. Studies ascertain that most of the crimes either take place or are promoted by the Clearnet. Dark web in its totality is a conscious effort to provide anonymity. However, it is up to the users to determine whether the marketplaces are to be visited or not. Governmental agencies also depend on tor enabled networks for sharing secret information. The anonymity factor has become an essential standard among filed agents I military establishments, commanders, intelligence gatherers and civilians alike. Civilians find tor networks useful for circumventing censorship related issues and to provide security for children for online browsing. Dark web links are also used by users who are concerned of phishers and identity thieves.
Now the darker side has the majority of beneficiaries ranging from data sellers to hitmen. There is an onion link for every atrocity that has ever been raised against mankind. Danger zones include marketplaces, where banned drugs are up for sale. Targeted identity thefts are also very common in dark web. Other illegal activities in dark web include promotion of child pornography and sale of disturbing videos. They also host content that is banned in certain countries and also sale stolen credit/debit card data. Intelligence agencies also suggest that important personal identification numbers are also sold in dark net. To an extent, data monitoring agencies can track the level of web usage of a customer. This can provide some insight o the nonstandard domain access of users. That is the limit. Anything from here requires a complete breakdown of the internal structure of tor. Law enforcers are gaining access to every loophole they can access in the hidden networks. Reports and statistics guide users to stay away from dark web surfaces due to its hidden nature. Some of the important examples that come o our mid when thinking of dark web are Edward Snowden, Arab Spring.
Safety Measures Before Accessing Dark Web Links
Dark web links open the world of activities for net savvy users. But even the most ignorant users have to abide by certain policies in order to have a safe browsing session. No stone should be left unturned as it is a cat and mouse game where a simple flaw can and have grave consequences. The simplest protection that users can afford is to install Linux variants. They offer better security than Windows. Another option is to keep browsers in windowed mode. Extending the browser window to maximize browsing experience can lead to trackers effectively spoofing your screen size. Also, it's a good idea to hide the laptop cameras if there are any since actively controlling hardware using programs isn't a hard task for hackers in the dark.
Some of the preferred VPN s like Surfshark offer unique experience when coupled with tor browsers. Browsers like Candle, Not Evil and DuckDuckGo maximize search efficiency and prioritize on secure browsing standards to allow users have a better involvement. A humble request to users of dark web links is that clicking and following the searched links is a hazardous path to choose since most browsers out there aren't researching on filtering the results. Searx is another versatile browser with a detailed search algorithm in place. It has detailed search mechanisms to trace social media, videos and scientific stuff. If searching is not your cup of tea, then directories like Daniel provide extensive resources. It houses over 6000 Onion links with a status update on each of them. Users can make use of this facility to track websites that are frequently down. This added functionality allows to save time since dark web links are famous for their downtime. Learn more about VPN vs Tor, pros and cons.
Dark Web Links For Email Services
Dark net is not about surfing the internet for malicious activities. It hosts several useful features for web surfers. One of the most common uses of tor networks include leveraging the powerful mail servers. Yes, the anonymity that email servers offer is supreme. Some of the best email clients are available in the dark net for free. Protonmail is one such example. It is free and offers encrypted service. There are no leftovers once the session is closed. Logs and other trackers are not used by Protonmail servers. The email server had its humble beginning as a small Swiss venture and rapidly took over the tor network with ease. Protonmail when coupled with the massive security of tor offers an extensive platform for users to exploit any barriers that governments have in place for citizens.
Secmail is another rock-solid email server that provides tor users with an easy mail option. The messages are PGP encrypted and leaves no trace whatsoever. However, users shouldn't dream of gigabytes that Google or Yahoo assures. A ere 25 mb is what every user is allotted since the platform is free to sue and is backed up by a small community. Mail2tor is yet another email client which provides anonymous mail standards. They also provide much importance to user security while browse the dark web links and doesn't store any IP related information either.
Miscellaneous Useful Dark Web Links
For a relief, there are interesting websites in dark web for strained minds out there. A classic example is the massive collection of Imperial Library. It hosts just over 4,00,000 lakh books with most o the content being comic strips. The books are neatly ordered and is digitally kept in various formats. The Web Radio is a cool explorer for users. It helps to delink yourself from the chaotic world and lets you enjoy streams. Music streams can easily be accessed in Tor platform with the help of Deep Web Radio. Pro-Publica is another whistle blower daily that was first spotted as a publication having an onion extension. The right to privacy and free speech has had a facelift thanks to Pro publica. Journals, articles and other quality works can be found in the website.
Facebook has its own dark version with an altogether different theme. Some of the major newspapers around the world has their own tor archive anchored in the dark web. Music enthusiasts, comic lovers and art addicts will surely have their niche in this part of the world wide web. ZeroBin is an effective messaging tool used in dark net. It has an intuitive layout and offers thorough encryption. The security is that extreme that even the servers cannot decipher the encryption method, suits the theme of dark net. There are many other dark web sites which are worth visiting.  A brief search of directories will provide many hidden sites or dark web links. Last but not the least is Soylent News, which provides unbiased, accurate news. Soylent News also allows users to involve in conversations and public discussions. There is a submission base for users to leave articles and clips from their locality.
Dark Web Links And The New Era
Having had a dark decade with many takedowns, dark web has been defensive during the past few years. From the beginning, it has weaved for itself a secure place but the demise of infamous marketplaces like Silk Road had the toll. Illicit markets are still thriving in the dark web. But the legacy is yet to revamp. Most of the markets are now covered with hidden hackers and scammers. Digital currencies like Bitcoin has made tracking much harder. It has also paved the way for many stealers to bypass authentication mechanisms for financial benefits. All these disruptions haven to put an end on the markets. Business is as usual in dark web. For users who are not aware of the terminology drug crypto markets, here is a brief introduction. Crypto markets existed in the early phases of dark web. These dark web links take you to marketplaces where illegal drugs and banned medicines are sold. Almost like Amazon or e-bay, these illicit markets were perfect for international trading.
The multi-vendor markets alarmed the international police. It was at this moment that take down of The Silk Road took place. Since anonymity was of supreme importance, it was hard to identify the seller, his location or address with any degree of certainty. The new era of digital currencies had made it more easier for market admins. Now, its just a click for exchange of goods. The decentralized cryptocurrencies ensure that the transaction is made within split second. There isn't a generic drug that you will out on the drug markets. The arms and ammunition market are also the same scene.
Future Of Crypto Markets And Dark Web Links
It is unsure from a technological perspective as to whether dark web will survive another advanced internet age. However, at present it is stable and is relied upon by the masses. A technical compromise like cryptocurrency failure or Tor breach can end the black kingdom's reign. The base of markets in tor is the understanding between users and admins. This can be exploited through exit scams and regulations put forth through compromising systems. A sting attack by law enforcement agencies can also be fatal and affect the trust layer of Tor.
Simple and more efficient means of transactions mean that offline drug deals might get better and more feasible. All these can point at solutions to the threats of scam that online systems throw at users.  Network innovations and other means of fast internet can also bring the awful tor network down. Reliability is not the buzz word that holds users to Tor, it's the integrity factor that pins them down. Having a better solution for privacy will surely enable a user to rethink about his decision to use and stick with Tor networks. Last but not the least, the unsure environment of Tor is the biggest challenge that it is going to face in the future while browsing the dark web links. 
Conclusion
There is an axe atop every apple you find in the dark web forest. As findings suggest, curious users are among the most trapped in dark web. Wit hall security measures in place, it is a fair idea to surf dark web. Responsibility of accessing a web link is the user's part.  While making purchases through dark web links, frantic customers often leave evidence or traces for security experts to zero in on them. It is often a good practice to use the above-mentioned security methods. Along with that, users should stay away from the illegal markets that hold drugs and other stolen data for sale. A compromised system or technology can lead to a catastrophic failure at any point of time. This can affect the user base leading to exposure of sensitive data. A good anti malware package, a trustable VPN, Linux OS, updated browser, wired internet connection and Tails loaded on a USB are bare minimum to access dark web links. Dark web is mysterious and scary. It doesn't have any valid picks to challenge Clearnet counterparts. As such, the regular internet user need not somersault in to the deep waters of dark web. But it is hard to kill curiosity. So, gear up and take a ride but be on the safe side. The only person who can save you from the perils of dark net is yourself.